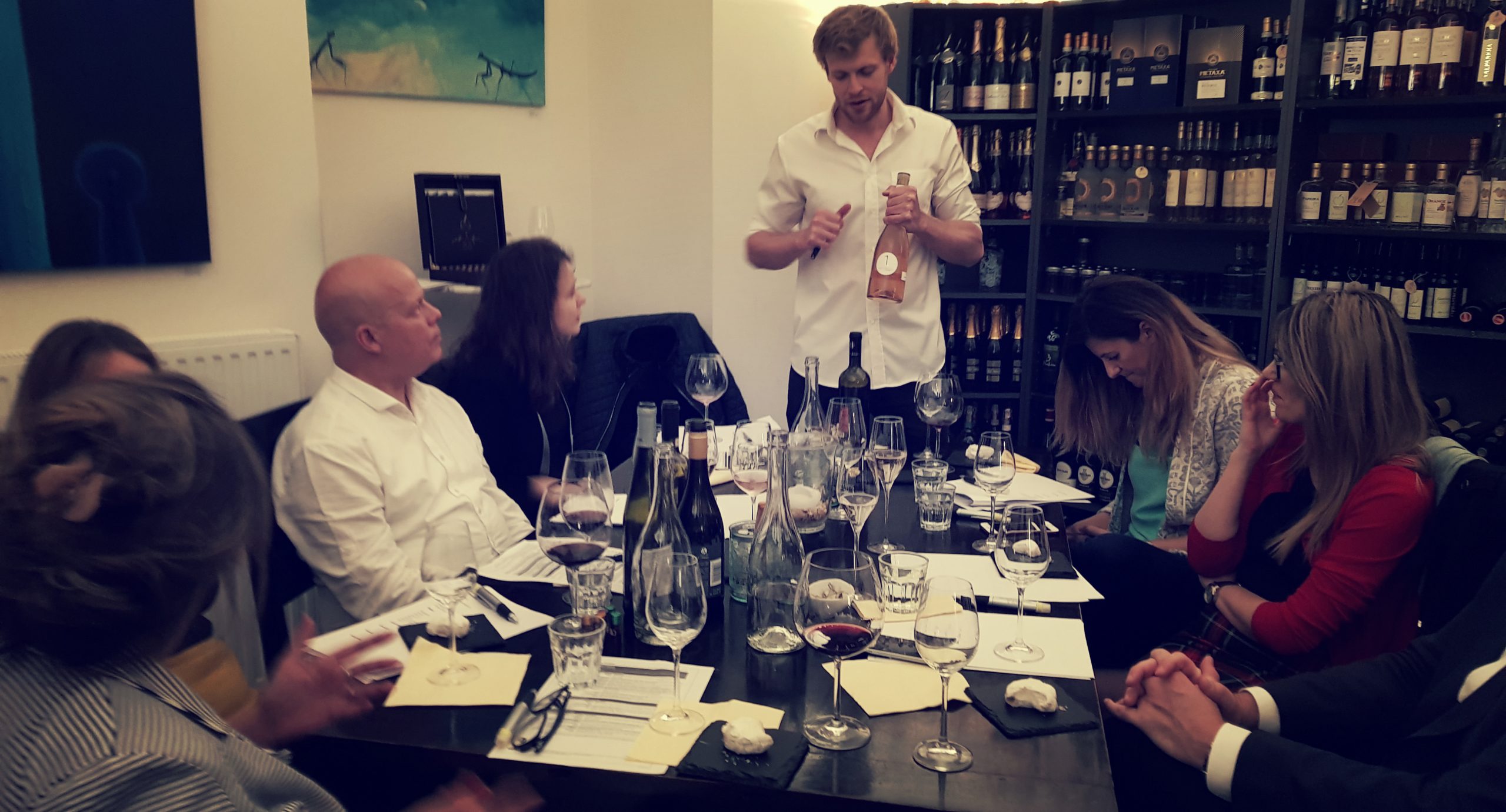 May 14th marked another wine tasting at Vini per tutti; this seminars topic was "Wines of Greece". We had a great group of people, all from different nationalities.We tasted a variety of wines, each accompanied with a special side dish. Before the tasting, we started with a brief introduction to Greek wines followed by a short aroma exercise to warm up the senses.We started with a Malagouzia from Evia by Petriessa Winery. Often described with a resemblance to new world Sauvignon Blanc, the wine possesses pronounced aromas of white flowers and a touch of a green leafiness. Very light bodied with almost a completely transparent, light lemon color, we decided to pair wine 1 with baby onion and sardines with capers and a touch of balsamico.
The second wine tasted, one of Greek's most notorious wines, was a Savvatiano, by Akriotou Winery in Plataies, two hours North-West from Athens. More notable for its internationally recognized retsina wines, the savvatiano grape has over time, along with technological improvements and research, started to produce unique wines with signature expressions. This water-coloured wine carried a solid structure with mouth-watering acidity and freshness, with intense aromas of stone fruits like peach and apricot. The finish was long and the flavours lingered long after the wine was finished. For those only accustomed to retsina wine, this was surely a pleasant surprise to the grapes potential. We decided to pair this wine with a cucumber slice topped with home made feta cream.
We continued with an assyrtiko, made by Santo Wines winery, in Santorini. The wine, a favourite to many of the evening carried a clear, lemon color, with medium intensity. On the nose it maintained expressive aromas of flowers, along with green fruits, such as green apple and pear. The palate was bone dry, with crisp acidity along with a great balance of delicate floral flavours. Moreover, the wine aged temporarily in oak, which added structure and body to the final wine. The wine, a "Nykteri," possesses grapes that were harvested at night time, to preserve the coolness and freshness of the grapes before pressing, and to avoid the grapes from spoiling under the islands heavy sunlight. This was the first assyrtiko for many of the tasters this evening, and it surely left an impression! The wine was paired with a pumpernickel bread topped with a home-made asparagus cream and fresh salmon.
Wine 4 moved us on towards red wines. Indeed, Greeks are today more recognized for their white wines, but the reds should not go unnoticed, and this is something we worked on to show this evening! The first red wine took us to the peninsula of Peloponnese, to the PDO of Nemea, a hilly region that produces some of the most famous red wines of Greece, namely Agiorgitiko. The winery is Kalamata- based Inomessiniaki winery, one of the more well-known wine-makers in the region. The wine possessed a dark ruby colour, giving a glistening, yet elegant glow as it poured into each tasters glass- the colour the variety produces is surely a memorable one. On the palate, the wine gives a pronounced expression of fresh forest berries. The tannins coat the mouth giving a silky feeling in the mouth, yet it maintains its structure with sharp acidity and flavours that linger long after in the mouth. A classical Greek variety, one all of us was very happy with. We all agreed the wine perhaps should have been decanted a little a bit earlier, since the acidity was quite robust at first and the wine needed time to open up. We paired this one with a dried fig, topped with prosciutto and goats cheese, becoming a personal favourite to many during the evening!
With the next red wine, from the same Inomessiniaki Winery, we moved towards merlot, a more international variety, but one that is more and more being widely produced on Greece's mainland. A rather unpopular variety in recent times, we sought out to understand whether merlot can stand as a variety of its own, and not just be seen as a "secondary" wine. The wine, similar to the Agiorgitiko, produces a "flowy" sensation on the palate, with dark black berries. If compared to the previous wine, the tannins were smoother in this wine, and the acidity not as clenching and mouth-watering. This made the wine all-around more juicier and more comfortable to drink. We paired the wine with a pate made of green olives from Kalamata with an added artichoke and almond slice.With the last one, quite an unusual one- we decided to surprise our tasters with a semi-sweet rosé wine made by Syrah, by the esteemed Akriotou Winery on the Greek mainland. Not a typical Greek wine, the rosé possessed the characteristic to draw out new conclusions and remarks from each individual taster. This made it all the more interesting as a wine to end the night with. With its semi-sweetness, it produced a pronounced body with fresh candy-like aromas and flavours of pear, cherries, and rosemary. Swirled a couple more times, the wine drew out secondary and tertiary notes of marzipan and vanilla. This wine is a must try for anyone who is a rosé fanatic. We paired this wine with a sugar coated almond kourabie.
In all, it was a special evening, and we are happy to have introduced some of our guests to Greek wines for the first time! Not as common as other old world wines, Greek wines are still somewhat concealed to the international wine consumers. But with time Greek wine-makers, with their ancient traditions, are only moving in the right direction and slowly receiving the recognition they deserve. We are happy to have shared this evening with you, it was a great turn out!
See you next month, Team Vini per tutti